Founded in Australia in 1970 by World Master Chong Chul Rhee, Rhee Tae Kwon-Do is Australia's first, biggest and best martial art school, with branches Australia wide.
Rhee Tae Kwon-Do is regarded as one of the most comprehensive, dynamic and effective arts of self defence in this day and age. As a student you will not only learn effective self-defence, but it will also enhance every aspect of your mental and physical well-being.
Over 50 Locations in Brisbane
With over 50 Rhee Tae Kwon-Do Training Centres in Brisbane there's a location near you.
A modern art steeped in history.
Approximately 1300 years ago, during the Silla Dynasty in Korea, an ancient form of unarmed combat – known as Tae-Kyon – evolved.
Today, this ancient Art of Tae-Kyon has adapted and changed into the modern art of Tae Kwon-Do, integrating traditional techniques and borrowing aspects of other arts such as Japan's karate and Chinese kung-fu as well as many indigenous Korean martial arts traditions such as Taekkyeon, Subak, and Gwonbeop. Tae Kwon-Do brings the best of both ancient and modern styles together into an Art perfect for all aspects of life.
Characterised by its emphasis on head-height kicks, jumping and spinning kicks, and fast kicking techniques it's popularity has seen Tae Kwon-Do grow and be dispersed throughout the world in many forms.
Rhee Tae Kwon-Do involves dynamic techniques of unarmed combat for self-defensive purposes, combining the skilled application of powerful punches, flying kicks, blocks, dodges and interceptions. The Rhee Tae Kwon-Do practitioner uses well-trained hands, arms and feet to effect the rapid destruction of any attacker.
But the Art reaches much further than mere combat effectiveness. The discipline, mental training and varied techniques of Rhee Tae Kwon-Do also provide the grounds for engendering in the practitioner a strong sense of humility and resolve. It is this vital mental conditioning that separates the true practitioner from one who has mastered only the physical aspects of the art. Expertly taught by qualified instructors, regular practice of Rhee Tae Kwon-Do ensures limitless benefits for a fulfilling Way of Life.
World Master Chong Chul Rhee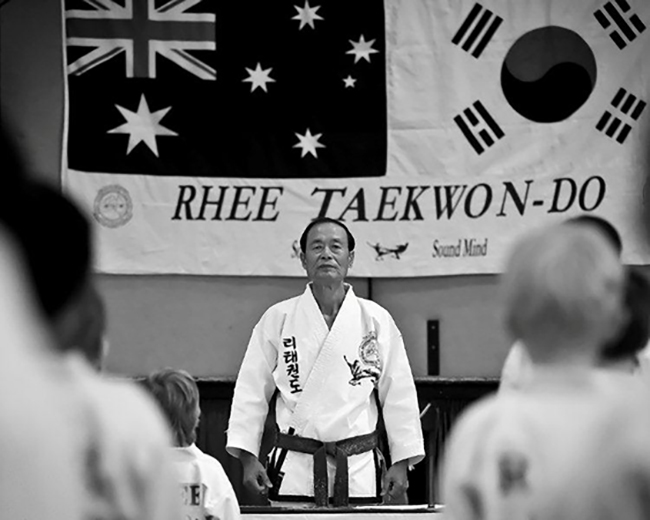 World Master Chong Chul Rhee was one of the 12 original Masters of Tae Kwon-Do, assembled by the Korean Tae Kwon-Do Association and tasked with spreading the Art throughout the world. Master Chong Chul Rhee, founder of Rhee Tae Kwon-Do in Australia, head of the Rhee Tae Kwon-Do Organisation, World Master Instructor and Chief Instructor for Australia and New Zealand, is also the President of the Tae Kwon-Do Instructors' Federation of Australia and New Zealand.
World Master Rhee acquired vast international experience before coming to Australia. He was a leading instructor of the Korean Marines, Police Force, students at universities & colleges and members of the public. World Master Rhee developed and taught special unarmed combat methods to the Marine Commandos, the elite Commando's underwater demolition team, the Marine Brigade Headquarters and Marine 2nd Infantry Divisions. (The Korean Marines earned a reputation as the world's most feared and courageous troops. Nicknamed 'The Demon Hunter Marines", they were easily recognised on the battlefields and were the most disciplined, daring and highly efficient elite of the armed forces.)
World Master Chong Chul Rhee spent some years in South East Asia – including Malaysia, Singapore, Hong Kong, Indonesia, Brunei and other countries – spreading the Art of Tae Kwon-Do. Tae Kwon-Do is booming in these countries today and many thousands of students are reaping the benefits of World Master Rhee's dedication to the Art. Since introducing the Art of Tae Kwon-Do in Australia, – World Master Chong Chul Rhee has led hundreds of demonstrations throughout the nation. He has demonstrated the Art at universities, colleges, Air Force bases, Army and Police academies, and at public festivals and events.
Through continual hard work and perseverance World Master Rhee Chong Chul Rhee has established a strong foundation for the art of Rhee Tae Kwon-Do, produced a massive network of professional Master Instructors, Regional Instructors, Branch Instructors and Black Belts throughout the country. World Master Rhee's wealth of technical and teaching experience and highly skilled technique have contributed substantially to Rhee Tae Kwon-Do's dynamic expansion throughout Australia and New Zealand.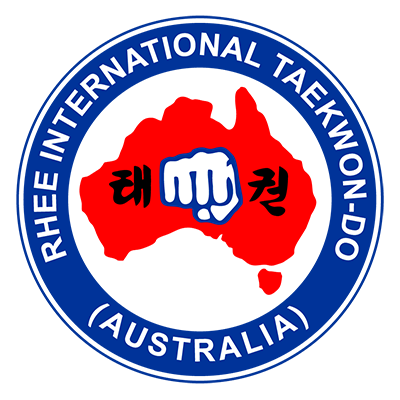 The aim of every Rhee Tae Kwon-Do Training Centre (Do Jang) is to allow people of all ages, fitness levels and backgrounds to learn Rhee Tae Kwon-Do in a safe and comfortable environment. Safety and fun are cornerstones of each class, with highly experienced instructors there to guide your journey. Rhee Tae Kwon-Do is more than fitness and self defence, it imparts self-control, self-discipline, high moral standards, improved psychological outlook and overall strength of character.
Rhee Tae Kwon-Do is a traditional and non-competitive art that anyone can learn and enjoy – male or female, large or small, strong or weak, child, teenager or adult.
Rhee Tae Kwon-Do Instructors are certified and officially appointed by the organisation and World Master Chong Chul Rhee. Our Professional Instructors, or Sabum (Korean word for 'Martial Arts Teacher / Instructor'), are dedicated, skilled martial artists, specially selected with great consideration and are carefully trained to bring out the best in their students. All invest a great deal of time and effort to ensure the members become the best that they can be.
Each Rhee Tae Kwon-Do Instructor and Yu Dan Ja (Black Belt Assistants) demonstrate great care, understanding, consideration and fortitude to support student development in pursuit of the Art. Rhee Tae Kwon-Do Instructors hold working with children accreditation and police clearance (Blue Card holders).
World Master Chong Chul Rhee opened Australia's first Rhee Tae Kwon-Do training centre in Australia more than 50 years ago and has continued to teach Australian children, adults and families ever since. Rhee Tae Kwon-Do was the first Tae Kwon-Do academy in the country, it is also the largest with training centres throughout every corner of Australia. With a focus on families, Rhee Tae Kwon-Do has grown to meet the needs of the communities within which we base our training centres. All current and past instructors were once students of Rhee Tae Kwon-Do, many starting as children, still training or returning today with their own children to follow the same path.
We encourage you to come along to one of our training centres for a free, unlimited trial and find out for yourself what makes Rhee Tae Kwon-Do Australia's number one Family Martial Art since 1970. Family Fun, Total Health, the Ultimate in Fitness and Self Defence.
Over 50 Locations in Brisbane
With over 50 Rhee Tae Kwon-Do Training Centres in Brisbane there's a location near you.
Postal Address
PO Box 126 Chermside Sth, QLD 4032