GREAT FUN, ULTIMATE IN FITNESS & SELF DEFENCE
Rhee Tae Kwon-Do was Australia's first and is the largest & longest running school in the country
The benefits of Rhee Tae Kwon-Do for adults go beyond improving your strength, flexibility and general fitness. It can also improve your mental outlook and help you to adapt to different situations in many aspects of life. As a student not only will you learn practical self defence techniques but your journey will help you to gain confidence and learn leadership skills.
Keeping your kids healthy & active is a considerable task, especially in this age of digital distractions. Our Instructors strive to make each training session have a combination of physical activity, including strength & flexibility as well as self defence and awareness training to deal with today's world with confidence, discipline, and respect.
Sharing physical activities with your kids, parents, and siblings isn't just a fun way to get your heart pumping. It's also a great bonding experience. This is an activity that includes the entire family. Rhee Tae Kwon-Do allows the entire family to join in. Adult Members often have the opportunity to become instructors, and in turn, so do their kids.
A Conventional Style, Perfect For Today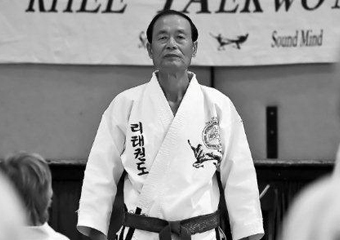 Our Founding Father
Our founder, World Master Chong Chul Rhee is one of the Twelve Original Masters of Tae Kwon-Do, assembled by the Korean Tae Kwon-Do association and sent throughout the world to promote the art. He founded the first Tae Kwon-Do school in Australia in 1970.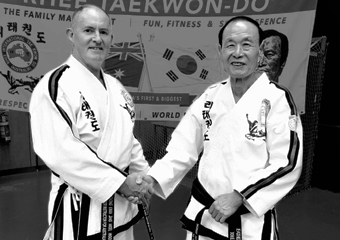 Professional Instruction
All of our Instructors are approved and appointed by World Master Chong Chul Rhee, Founder & Father of Tae Kwon-Do in Australia. Undergoing constant training they are taught the best ways to advance students no matter their age, physical abilities or personal goals.
Over 50 Training Centres Across Brisbane
Thinking of joining Rhee Tae Kwon-Do?
We welcome children from 5 years and older

Adults – men and women of all fitness levels welcome

Adults and children taught separately

Beginners & past members welcome anytime

Family friendly

No appointments necessary

No contracts, no obligation to join

Simple and easy to learn

Great Fun, Ultimate in Fitness and Self-defence

Professional Instructors
(Blue Card Holders / Working With Children)
Postal Address
PO Box 126 Chermside Sth, QLD 4032